Trusted Expertise
International Security Standards
As well as providing GDPR assurance as standard, we back up all your data in the UK on systems that meet international security and quality standards ISO 27001 and ISO 9001.
Auditable Processes and Wide-Ranging Reporting
You can have as much or as little data as you like. Using our bespoke CRM system, QCS+, we report across every possible project variable, as well as macro trend analysis, at no additional cost.
80% Savings for Your Sector
Is your work legal- or compliance-based? You can benefit from 80% cost savings by using our AMLiss™ and Key Data Abstraction services. This also ensures we translate only relevant content with no key information left out.
Clear Translation for the Banking and Capital Markets Sector
Being sued because you breached data security of exposed your customers to fraud could be your worst nightmare. You must comply with anti-money laundering legislation and the second Payment Services Directive (PSD2). Requirements are strict and make no allowance for any lack of language skills of either party.
You need to protect yourself. That means you must fully understand foreign documents and prevent the risk of getting sued if you don't know the regulations.
Online banking and banking apps are everywhere. In the UK, mobile is the most popular method of banking. Contactless and mobile payments have taken off.
With borders coming down around the world, customers newly arrived from foreign countries need to clearly understand forms requesting proof of ID and proof of funds – regardless of how well they speak their new language.
The bank that explains these things clearly to all customers will drive more business. They'll ensure accurate, consistent and effective customer communications and give customers attentive service in their preferred language.
Our linguists, qualified to at least Masters level, understand banking inside-out. Every translator you'll be assigned has in-depth industry knowledge.
In the EU, PSD2 (the second Payment Services Directive) is also coming. This will mean tougher online identity checks on payments and more transparent pricing on international payments.
It's good to know our linguists fully understand the regulations and can provide you with legally-compliant translations.
Naturally, we're also keen on data security. That's why we back up your data to international security and quality standards ISO 27001 and ISO 9001, and take GDPR seriously.
Content We Translate
Financial reports
Regulatory reports
Tax Legislation and Guidance
Commercial Agreements and Contracts
Annual Accounts
Due Diligence Data Room Documents and Accounting Information
Documents for Internal and External Audit
Industry Experience





370+ of the world's leading financial firms use our services
21% average budget saving from sector-specific translation memories
1,400 linguists and experts in 86 countries
131 GDPR controls
Recent Projects

Allianz
Translation and Proofreading
50+ projects
1,000,000 words translated

VTB Capital
Translation and Proofreading
940,000 words translated

Leading financial firm
2,000 projects
6,500,000 words
20+ languages
To get started email:
Industry Insight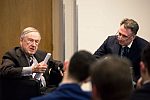 Court Case Involving Czech Coal Mine Undermined by Incomplete Translations
Astonishingly, nearly 120,000 pages of that evidence, in Czech and English, were not translated into French – the language of the court – and so were not available to judges when they were hearing the case.
Find Out More