Trusted Expertise
80% Savings for Regulatory Compliance content
Regulated professionals can benefit from 80% cost savings by using our AMLiss™ and Key Data Extraction services ensuring that only relevant content is translated, with no omission of key information.
Secure and Confidential
Processes are certified to conform to the international security and quality standards ISO 27001 and ISO 9001, also providing GDPR assurance. All client data is backed-up in the United Kingdom.
Quality Driven
99.5% first-time accuracy for translated content is achieved through robust translator recruitment and selection, rigorous project management processes including technical term-base management.
Accurate and Compliant Translation
Finance professionals have obligations in terms of disclosure of data to third parties, in particular, compliance with the Data Protection Act 1998, UK Financial Services and Markets Act 2000 and the FCAs Transparency and Disclosure Rules. These are crucial to avoid unintended disclosure of personal or market-sensitive data to third parties that could expose the bank to sanction. We mitigate these risks on behalf of our clients by having certified controls in place. Some of the biggest firms in the sector rely on Today Translations because it has a unique level of quality and security certification, with both ISO 9001 and ISO 27001 certification for its entire operation.
The requirements to comply with anti-money laundering legislation are strict and make no allowance for any lack of language skills of either party. Translation processes can pose a risk to data security and integrity with documents being sent to external agencies that don't operate the right controls or have vetted linguists.
Often, firms use internal staff members who may be native language speakers but not professional linguists. This exposes them to the risk of error, as well as considerable opportunity cost. Third-party translation suppliers must comply with the GDPR Regulations and be able to show evidence of conformity, such as secure document handling, storage, and fully auditable processes..
By using only native, Masters qualified translators with proven sector-specific finance credentials, accuracy and integrity are guaranteed. Documentation is certified as accurate for legal or insurance purposes, and all deliverables are covered by comprehensive global indemnity insurance, which includes US jurisdictions.
Content We Translate
Financial reports
Regulatory reports
Tax Legislation and Guidance
Know Your Customer Forms and Compliance process documentation
Annual Accounts
Due Diligence Data Room Documents and Accounting Information
Documents for Internal and External Audit
Industry Experience





370+ of the world's leading financial firms use our services
21% average budget saving from sector-specific translation memories
1,400 linguists and experts in 86 countries
131 GDPR controls
Recent Projects

Allianz
Translation and Proofreading
50+ projects
1,000,000 words translated

Nikkei
Consecutive Interpreting
320 hours of content
2,800,000 spoken words interpreted

Leading financial firm
2,000 projects
6,500,000 words
20+ languages
To get started email:
Industry Insight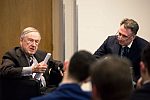 Court Case Involving Czech Coal Mine Undermined by Incomplete Translations
Astonishingly, nearly 120,000 pages of that evidence, in Czech and English, were not translated into French – the language of the court – and so were not available to judges when they were hearing the case.
Find Out More