Trusted Expertise
Time-saving Translation Memory Software
You'll get your translations quicker and save around 20% thanks to our Translation Memory management service.
Quality and Accuracy
Choosing highly qualified translators with verified industry credentials results in 99.5% first-time accuracy for translated content. We back this up with rigorous project management and Translation Memory management.
Ready to Publish
Using our DTP and typesetting services ensures your content is fit for purpose and ready for publication.
Translation for the NGOs and Charities Sectors
Translation for the NGOs and charities sectors has a bigger purpose: it must help create empathy and understanding, and bring people together in a common cause.
If you're a charity, not-for-profit organisation, NGO, advocacy or aid group, you'll probably operate internationally or need to communicate with non-native speakers where you're based – translation helps communicate your message clearly and helps those in need across the globe.
Our global trusted network of over 2500 linguists always translate into their native tongue. They're qualified to at least Masters level and always have verified industry credentials – linguists for each project based on their resume, relevant experience, and continuously monitored performance. This ensures accurate and clear communication.
Careful management of Translation Memory software, a linguistic database that captures translations as we work for future use, ensures consistency across all documents, and cuts costs and time.
We're on the side of charities, using transcreation and localisation to ensure translated messages have the correct cultural slant and tone of voice.
Here are some of the charities we support.
We're also happy to provide certified, sworn or notarised translation for submission of translated documents to official bodies.
Content We Translate:
Events Branding and Documentation
Online and Print Communications
Interviews and Surveys
Website Localisation
Legal Documents and Correspondence
Training Courses and Supporting Material
Research and Reports
Interpreting
Video Dubbing and Subtitling
Policy Documents
Bids, Tenders and Procurement
Industry Experience





300+ clients in e-learning & education
2,120 educational projects handled
606 specialist translators in this industry
13.2 million words translated to date
Recent Projects

United Nations Environment Programme
Translation and Proofreading
1,300,000 words translated

Amnesty International
Translation and Proofreading
100,000 words translated

Tusk Trust
Translation and Proofreading
170,000 words translated
To get started email:
Industry Insight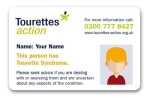 How can translation help people with Tourette Syndrome?
Tourettes Action has launched a new campaign for the holidays! In order to help people with TS live as normal a life as possible Today Translations have helped to produce a translation print-out of the TA ID card.
Find Out More