Trusted Expertise
On Time, Every Time
We hit 99.8% of deadlines, thanks to APM-qualified project managers and a tightly controlled risk- and change-management framework.
Respected Jurisdiction
We respect the laws around business and contracts in England and Wales and apply them to all our quality standards and contractual commitments.
Confidentiality and Security
We back up all your data in the UK on systems that meet international security and quality standards ISO:27001 and ISO:9001. Your data is also safeguarded under GDPR.
Large-Scale Translation for the Capital Projects Industry
Your work involves huge infrastructural projects. The documentation that comes with it is no smaller in scale.
Relax. At Today Translations, we've worked with some big contractors with large-scale translation requirements, including Health and Safety documentation for Crossrail.
When you're working all over the world on capital projects and infrastructure, it makes sense to have one point of contact for your translations.
We have the resources to cope, with linguists qualified at least to Masters level translating into 200 languages. You'll receive perfect translations that are meticulously researched, written and validated by qualified linguists with specific industry expertise in capital projects and infrastructure.
Our translators understand the factors governing the capital projects and infrastructure industries: the need to juggle huge capital values, the sensitivities around public-private partnerships and the need to work with governments and development agencies overseas.
We'll meet your deadlines and safeguard your data to unique levels. And if you need a specific process implemented in line with your working style, we're flexible and ready to listen.
Content We Translate
Assets, Capital and Investment
Technical Drawings (CAD, CAM, MEP)
Banking and Loan Documents
Bid and Tender Collateral
Commercial Agreements and Protocols
Corporate Strategy and Planning
Due-Diligence Proposals and Tenders
Health and safety documents
Corporate E-Learning
Industry and Feature Reports
Laws and Statutes
Industry Experience




1,000+ industry-specific linguists
21% average budget saving from industry-specific translation memories
600,000,000 word translation capacity per annum
Recent Projects

Crossrail
Translation, Proofreading,
Multiple Policies
8 Languages

Leading Professional Services Consultancy
Translation and Proofreading
130+ Projects
800,000 words translated

Mace Group
Translation and Proofreading
120,000 words translated
To get started email:
Industry Insight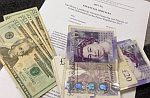 4MLD: Measures to Identify Fraud in Foreign Language Documents
Regulated professionals need to be especially diligent when reviewing documents from clients that are in foreign languages following the new anti-money-laundering (AML) rules that came into force on 26th June according to David Clarke, the former head of the UK National Fraud Intelligence Bureau (NFIB).
Find Out More