Trusted Expertise
Translation Memory Savings
On average, our clients make a saving of around 20% thanks to our Translation Memory management service.
All-Inclusive Quotes
We have no hidden costs. Our quotes include all project management fees, research and preparation, certification, proofreading and maintaining your Translation Memory.
Ready to Publish
Save more time by using our DTP and typesetting services. Your content will be fit for purpose and ready for publication.
Translation for the Books and Publishing Sector
Getting the maximum ROI from your books means going global and having them translated into other languages. The statistics tell you all you need to know: 72% of readers prefer content in their native language, 67% of books are published in non-English countries, and potential readership in those countries is over 500% higher.
It's time to reach a larger audience.
But translation isn't everything. It's important to always keep local cultures in mind. Missing nuances could be a faux pas. That's why our postgraduate-qualified linguists are also experts in localisation.
We cover the whole spectrum of publishing translation: academic books, fiction, encyclopaedias, textbooks and training manuals, theological books, medical books and more.
We've worked with authors and publishing houses on translation, proofreading, copy-editing, typesetting, cover design, and e-books.
Note also that, when translating into some languages, content can be up to 20% longer. That's why we offer a DTP and typesetting service that gets your text ready for publication.
Content We Translate
Academic books
Fiction
Encyclopaedias
Textbooks and Training Manuals
Theological Books
Medical Books
Guide Books
Children's Books
Cookery Books
Catalogues
Industry Experience





1,200+ industry-specific linguists
21% average budget saving from sector-specific translation memories
20% average time saving from in-house typesetting
600,000,000 word translation capacity per annum for marketing
Recent Projects

HarperCollins
Translation and Proofreading

Oxford University Press
Translation and Proofreading

Penguin Random House
Translation and Typesetting
To get started email:
Industry Insight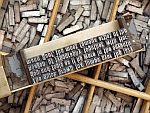 The Top 5 tools for Multilingual Typesetting
Today Translations gives you a rundown of the top 5 tools for typesetting, with a particular interest in their ability to handle multilingual or non-latin text.
Find Out More