Trusted Expertise
On-time Delivery
We meet 99.8% of our deadlines. That's due to APM-qualified project managers and a sound risk- and change-management framework.
First-Time Accuracy
We get 99.5% of translated content right the first time. That's down to native translators with at least a Masters degree and deep sector understanding. We also offer rigorous project management and Translation Memory management.
Translation Memory Saves 20%
You can make a saving of around 20% with our Translation Memory management service, which remembers previously translated phrases to assist translators.
Fast, Accurate PR campaign and Press Release Translation
PR moves fast. Press releases get drafted and distributed around the world in short timeframes. When it comes to translation, you need a fast, adaptable service.
With over 2500 highly qualified linguists in our global network, we can react quickly with a scalable service. And we're always on hand to make last-minute changes.
But speed is only half the battle. Translations must be absolutely perfect, or miscommunication or worse could result. What's more, they must be localised or transcreated. Failure to do so could seriously harm your brand.
That's why we employ only native, experienced translators with a postgraduate qualification in their languages. The linguists assigned to your project will also have verified PR credentials. And they'll also know how to localise (make it culturally appropriate) and transcreate (write from scratch in the correct tone).
We back this service up with Translation Memory management, which ensures consistency and reduces costs across different releases for the same client and multichannel campaigns.
Content We Translate
Press Releases
Online and Print Media
Case Studies
Advertorials
News Articles
Features
Interviews
Industry Experience





1,200+ industry-specific linguists
21% average budget saving from sector-specific translation memories
20% average time saving from in-house typesetting
600,000,000 word translation capacity per annum for marketing
Recent Projects
WorldPR
Translation and Proofreading
880,000 words translated
24 Languages
Weber Shandwick
Translation and Proofreading
7 Languages
Fleishman-Hillard
Translation and Proofreading
6 Languages
To get started email:
Industry Insight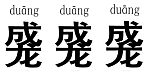 Debugging "Duang" – The Meaning Behind China's Most Used, Yet Confusing Word!
What is duang (pronounced "dwong"), you may ask? Well, at present the meaning is quite ambiguous; however, that hasn't stopped it from becoming the most popular word on Chinese social media platform Sina Weibo.
Find Out More