Trusted Expertise
Global Business Contracts
Our translations help more than 2000 clients win global business contracts in multiple languages.
Translating into over 200 languages
Our linguists translate into their native tongue across over 200 language combinations. They can work as part of our team or we can assign you a local translator.
APM-Qualified Project Managers
We meet 99.8% of our deadlines with the help of APM-qualified project managers and a tightly controlled risk- and change-management framework.
Trusted Translation for Your Bids and Tenders
Whether you're tendering – inviting bids for a project or accepting a formal offer such as a takeover bid – or bidding for a project in response, you'll have invested a lot of time and effort in detailing all the requirements. So you won't want the process to be undermined by a poor translation.
If you're putting out to tender, your need is large enough and complex enough to make it worth your while inviting offers. Having your tenders translated allows you to reach many more potential suppliers and partners.
When you respond to a tender in a foreign country, you'll need to translate both the requirements and your bid to win the contract. Again, plenty of effort goes into making your response, so the last thing you need is to be let down by a poor translation.
Happily, our global trusted network comprises translators with at least a Masters in their chosen language, plus deep subject-matter expertise. Including the legal, financial and technology sectors.
Backing them up is Translation Memory management, to ensure consistency and improve turnaround time when translating long tenders.
In our experience, if you're responding to a tender, you'll want to make changes right up to the deadline to achieve the perfect response. We're on your side: our adaptive, scalable service and over 2500 linguists mean we can quickly move with your changes and update the translations to meet your deadlines.
Of course, the world of bids and tenders is full of confidential and sensitive information, so we give you peace of mind with GDPR assurance and by backing up your data on systems that meet international security and quality standards ISO 27001 and ISO 9001.
Content We Translate
Request for Information (RFI)
Request for Quotation (RFQ)
Request for Proposals (RFP)
Tenders and Offers
Supporting Documentation and Appendices
Presentations
Due-Diligence Material
Correspondence
Accounts
Industry Experience





21% average budget saving from industry-specific translation memories
1,400 linguists and experts in 86 countries
131 GDPR controls
700,000,000 word translation capacity per annum for law
Recent Projects

VF Worldwide
International Tenders
Translation and Proofreading
180,000 words translated

Hogan Lovells
Transcription and Proofreading
150,000 words translated

Leading Financial Firm
2,000 projects
6,500,000 words translated
20+ languages
To get started email:
Industry Insight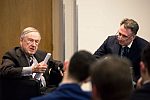 Court Case Involving Czech Coal Mine Aquisition Undermined by Incomplete Translations
Astonishingly, nearly 120,000 pages of evidence, in Czech and English, were not translated into French – the language of the court – and so were not available to judges when they were hearing the case.
Find Out More