Trusted Expertise
Quality Focus
With robust recruitment of highly qualified linguists, rigorous project management and Translation Memory management, we achieve 99.5% first-time accuracy for translated content.
Backed-up in the UK
All your data is backed-up in the UK. Our systems conform with the international security and quality standards ISO 27001 and ISO 9001. GDPR assurance also comes as standard.
Independent Proofreading
Three pairs of highly professional eyes proofread your translated content. A second translator proofreads the translated content, and a translation-qualified project manager conducts a final review.
Watertight Translation for the Patents and Intellectual Property
Patents and trademarks represent the legal framework that protects your intellectual property and inventions. They need to be filed in foreign jurisdictions, however, to be recognised there as well.
In the world of intellectual property and patents, any misinterpreted terms can have damaging effects. We understand how important the correct use of language is in an IP legal filing and go to extraordinary lengths to make our translations as watertight as possible.
It all begins with an APM-certified project manager, who ensures we assign specialised linguists to your project. They'll appoint a translator from within our huge network of over 2500 linguists covering more than 100 countries and jurisdictions. Among them are a number of proven and highly-versed IP translation experts.
These are people with a language qualification to at least Masters level. They're not only familiar with local patent law, but also a diverse range of industries, including the legal, financial and technology sectors. They'll produce accurate translations of applications that conform to the target country's patent style and regulations.
We guarantee that your IP translation will be legally sound, accepted by organisations such as the WIPO and the EPO, and won't be subject to any misinterpretation.
Depending on the jurisdiction, you might need certification of the translation such as a translator's declaration, notarisation and legalisation. We can provide this.
You can also benefit from our assessment of the relevance of foreign language patents and applications to yours. We can decide if you need a full translation of the patent. Our Key Data Extraction service can translate only the relevant information, saving you time and money.
You also have plenty of confidential information to protect, so we offer GDPR assurance and back up your data to international security and quality standards ISO 27001 and ISO 9001.
Content We Translate
Applications
Office Actions
Prior Art
Abstracts
Claims
Drawings
Patent Litigation Documents
Patent Prosecution Documents
Trademarks
Industry Experience





21% average budget saving from industry-specific translation memories
1,400 linguists and experts in 86 countries
131 GDPR controls
700,000,000 word translation capacity per annum for law
Recent Projects

Clifford Chance
Translation and Proofreading
160,000 words translated

Hogan Lovells
Transcription and Proofreading
150,000 words translated

Leading Financial Firm
2,000 projects
6,500,000 words translated
20+ languages
To get started email:
Industry Insight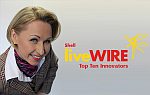 ip translationsIn Praise of Innovators
It was inspiring to see what kind of businesses the candidates had founded – from bespoke car mechanics and tuning to sustainable and creative approaches to agricultural production.
Find Out More