Trusted Expertise
LLB or LLM Qualified Linguists
We ensure the accuracy of our legal translations by using professional linguists with LLB or LLM qualifications.
Bulletproof Data Security
Data handling conforms with ISO 27001 and ISO 9001 and is backed up in the United Kingdom. We also provide GDPR assurance.
Auditable Processes
We'll give you as much or little data as you wish. Our bespoke CRM system, QCS+, enables reporting across every possible project variable as well as macro trend analysis, at no additional cost.
Translation for the Mergers and Acquisitions
Mergers and acquisitions involve two companies consolidating their businesses or assets. It can include transactions such as mergers, acquisitions, consolidations, tender offers, purchase of assets and management acquisitions. In many cases, these are global transactions.
When you're working across country borders on multinational mergers and acquisitions, effective understanding and communication across all parties is critical, no matter the region or spoken language of the stakeholders.
We know this. That's why our linguists not only hold at least a Masters degree in their chosen language but also have academic degrees in law coupled with professional experience in the legal and finance industries.
Sensitive information is also a big part of mergers and acquisitions, which is why we secure your data with robust confidentiality and information security policies. We manage your data security with ISO 27001, and screen and train our project management team and linguists, who always sign legally-binding non-disclosure agreements.
To reduce your costs, increase accuracy and improve turnaround times, we use secure Translation Memory software, which remembers repeated phrases.
We can also provide multilingual e-discovery solutions, key-data extraction services for due diligence, and certified, sworn, and notarised translations for submission to official bodies.
Content We Translate
Articles of Incorporation
Valuations and Supporting Documentation
Due Diligence documentation
Tenders and Offers
Multilingual E-Discovery
Anti-money laundering and corruption policies
Share Certificates
Correspondence
Local Regulations
Industry Experience





21% average budget saving from industry-specific translation memories
1,400 linguists and experts in 86 countries
131 GDPR controls
700,000,000 word translation capacity per annum for law
Recent Projects

Clifford Chance
Translation and Proofreading
160,000 words translated

Hogan Lovells
Transcription and Proofreading
150,000 words translated

Leading Financial Firm
2,000 projects
6,500,000 words translated
20+ languages
To get started email:
Industry Insight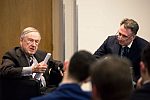 Court Case Involving Czech Coal Mine Aquisition Undermined by Incomplete Translations
Astonishingly, nearly 120,000 pages of evidence, in Czech and English, were not translated into French – the language of the court – and so were not available to judges when they were hearing the case.
Find Out More