Trusted Expertise
Consistent Tone of Voice
We consistently achieve the correct tone of voice by assigning you translators qualified to a minimum of Masters level and who also have an in-depth understanding of the restaurants and bars industry.
Native translators
We can assign members of our in-house translation team or in-country linguists based on your location. Between them, they cover more than 200 language combinations.
Fit for Purpose
Translated content is always fit for purpose because we can use our DTP and typesetting skills to present it ready for publication. This is a time saving of up to 20% for you.
Mouth-watering Translation for the Restaurants and Bars Industry
Just check out Trip Advisor. Every city in the world is teeming with restaurants and bars. Standing out in this crowded marketplace could be something as simple as presenting an easily navigable website with key information such as location, opening hours and menu offered in the reader's native tongue.
Not only that, but the tone of voice is also crucial in making prospective customers' mouths water. Dishes must sound appealing; drinks delectable. That's why, at Today Translations, we don't just translate – we transcreate and localise as well.
Transcreation involves staying true to the original tone of voice and emotional message of the original text to create new copy in the target language, while localisation means ensuring message are culturally appropriate.
Stir into the mix our translators' expertise – our linguists are qualified to at least Masters level – and with their vast sector experience, and ours is a lip-smacking offering.
The restaurants and bars industry is also highly multicultural. So, as a side order, our experience across a vast range of materials means we can translate training and HR literature for a multinational workforce.
If you're looking to save time and receive a finished product, such as your menus, you might be interested in our DTP and typesetting skills. We're also happy to work on CMS within your website.
Content We Translate
Menus
Press Releases
Print and Digital Marketing
Staff Training
Branding Collateral and Copywriting
Legal and Contractual Material
Social Media
Website Localisation
Branding Collateral and Copywriting
Copy Adaptation
Industry Experience





21% average budget saving from industry-specific translation memories
600+ industry-specific linguists
300,000,000 word translation capacity per annum for Travel and Leisure industries
Recent Projects

Britvic
Translation, Proofreading, and
Typesetting
800,000 words translated

Marriott Hotels
Restaurant Menus
Translation and Proofreading

Leading Drinks Brand
Translation, Proofreading, and
Typesetting
1,600,000 words translated
To get started email:
Industry Insight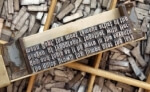 The Top 5 tools for Multilingual Typesetting
Typesetting, for the uninitiated, is the art of arranging and composing the text for the page or screen. The word originates from the days of mechanical printing, when each individual letter had to be placed, or 'set', on the printing press before being inked and pressed onto the paper.
Find Out More