From the global luxury brand to the small enterprise specialising in advanced 3D scanning and production, the secret to attracting new business is being visible in the vast ocean of competition.
Respect for culture and an intimate understanding of how brand emotion, imagery and language are conveyed are the backbone to an effective multinational marketing and communication strategy. Shrewd exporters know that investment into understanding essential components such as market and cultural variations and preferences; popular keywords; social taboos and emerging social desires puts gives them a competitive advantage.
Thought leaders and brand specialists joined forces with experts in linguistics, art, culture and online marketing to help Today Translations develop a comprehensive, highly structured approach to website translation and localisation that works.
Known as 4DMR (discover, design, develop, deploy, measure and refine), it is designed for clients to effectively target online users and rank in the target country. This consultative and pragmatic service is the most comprehensive industry model for online success.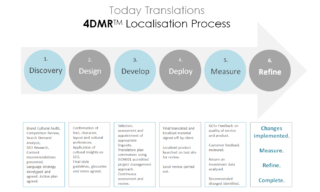 Discovery
Research and due diligence are crucial ahead of applying a foreign language. (Just ask these children whose parents were not quite so careful.) The discovery phase consists, first, of a cultural brand audit. Here, we explore how the target audience might perceive the client's corporate branding. This might include the logo, web imagery and website layout.
The second review includes looks at local competitor websites, SEO keywords and key phrases. We then suggest relevant new or transcreated copy to the client as part of a wider language strategy. Once the full project scope is agreed, the website build can begin.
Design
Necessary localisation changes are implemented online, adhering to the target audience's design tastes. This includes website layout, fonts and style guidelines, such as glossaries and terms.
Develop
Website copy, including metadata, is then translated and localised by a certified translator. All our linguists carefully vetted and appointed, and native in the target language. We also make sure to appoint only linguists with a specialised background relevant to your industry. So if you require medical or legal translations, you can rest assured that your project will be handled by a linguist with the appropriate experience.
The content is then uploaded onto the client's test website, either in catches or upon completion. Depending on client preference, this can be by the client themselves, the linguist or by Today Translations' project management team.
Deploy
Once the client has signed off the translation, Today Translations carries out a local peer review. Here, we test the new website with natives of the target region, noting any further advice or potential misgivings.
Measure
Once live, Today Translation and the client gather performance-related data. This helps us identify and put in place further enhancements and boost conversions. The parameters of this data are agreed at the specification phase. They are generally design, content and SEO-related.
Refine
The recommended changes are implemented and performance conversion rates are then continuously monitored.
Effective translation and localisation offer significant returns on investment for companies doing business abroad. Yet it is not always easy or completely straightforward. Even the biggest multinationals have been embarrassed by foolish website localisation mistakes.
The 4DMR approach offers a consultative service, from the research phase to the execution and beyond. Our website is your shop window, whatever the market, so it is important to get it right.
But website translation and localisation are only the first steps. The next step might include creating original content that appeals to the target audience. Or it might involve opening social media accounts in the target language to further enhance brand exposure. The opportunities are plentiful and we will help you get there.