TalkEU Hablar de la UE
EUreden Parlare dell'UE
Last week, Lloyd's of London confirmed that it will open a subsidiary office in Brussels. The insurance marketplace, which has been based in London for 329 years, said that it wanted to be certain that it could continue to serve EU customers after Brexit. Many major financial firms, such as JP Morgan and Citigroup, are also considering their position.
But it isn't just the financial giants. According to campaigning organisation Manufacturing Northern Ireland, 100,000 UK firms had registered companies in the Republic of Ireland by February 2017 to prevent a potential loss of access to the single market.
While the exact terms of the United Kingdom's trade deal with Europe may not be drawn up until after formal withdrawal from the Union in 2019, the tips below lay out some useful advice for companies that are considering moving their business to the EU.
1. Be aware of member states' differences
An obvious point to many, but one that's worth remembering. Europe is not a homogenous block. Alongside cultural and language differences, countries within the European Union have varied employment laws, digital rights laws, and more.
Despite some 'harmonisation' across the EU on legal and economic matters, the specifics of the legal system within which you are establishing a company will vary greatly depending on your choice of country.
2. Consider location
As such, national and regional factors should be considered thoroughly when evaluating where to move or expand your business to.
Your primary concern should be whether or not that area you are considering can supply the skilled workforce you require. Also, remember that local infrastructure such as transport links and telecommunications networks may have a significant impact on the office's productivity.
There are often financial incentives from local and national governments, as well as the EU itself, for expanding businesses, though these tend to be for cities and regions outside the capital.
Many European cities, however, have also made appeals to British companies in direct response to Brexit.
Paris
In the boldest and most direct appeal so far, the French capital sent a letter to 4,000 British executives extolling its virtues in the aftermath of the referendum. A few months later an advertising campaign promoting La Défense, Paris' business district, appeared in airports and train stations around London.
The French government has also announced that some paperwork can now be filed in English and even extensions on tax breaks for high-skilled foreign workers.
Dublin
Dublin, meanwhile, has focused on its similarities to the UK. Simply put, Ireland will be the only majority English-speaking nation within the EU, thus offering UK firms continuity and the smoothest transition.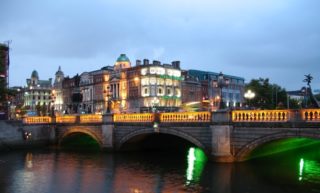 As well as a low corporate tax rate, the Irish finance minister has announced the extension of tax relief for foreign investors relocating staff to Ireland.
3. Consult local experts
According to the Council of British Chambers of Commerce in Europe (COBCOE), consulting local experts is a must.
At the very least you will need a law firm in the country to file paperwork such as the company registration. There are, however, a wealth of other experts that can help when moving your business to Europe. Chambers of Commerce will have networks of trusted companies to help with your move, which can also be used to establish partnerships and find your first local customers. The chambers themselves will also be able to advise you on local market entry.
The UK government's Department for International Trade also has offices in Romania, Hungary, Poland, the Czech Republic, and the Slovak Republic aimed at increasing trade between the respective countries.
4. Understand local regulations
While you will need to co-operate with local experts, it's also often worth translating the local regulations. Not only will this ensure you thoroughly understand the law and how it applies to your company, the peace of mind that understanding provides is invaluable.
Forgoing this precaution could expose your newly re-located company to unnecessary financial and compliance risks.
5. Don't let training get lost in translation
Once you have chosen your location, begun establishing the company, and made your first hirings, don't let their training let you down.
Staff training, especially those first members of your team is incredibly important, but also incredibly hard to get right if a language barrier is hindering comprehension. Make sure you arrange a high-quality translation for your staff training to ensure new employees understand both their day to day tasks and your company values.
6. Don't forget the impact on employees
Finally, don't overlook what affect the move or expansion might have on your employees. A relocation is a massive change for any employee – if they are unhappy or don't understand the move, their enthusiasm and productivity are likely to drop.
All the hard work of a relocation or expansion could be undone by not paying enough attention to the people that make up your company.
TalkEU

This article is part of the TalkEU series. TalkEU will answer a wide range of questions, from what language the Brexit negotiations will be in, to whether UK citizens may need to translate their passport to apply for European visas.
We will be posting a new TalkEU article each week, so don't forget to keep checking our blog for more information and answers.