We all want to realize our dreams and be part of a winning team. Business gurus write bestsellers about how they did 'it' and evangelical speakers run seminars explaining how you can do 'it', but what is 'it' and who really has 'it'? The answer is up there in the skies.
Yesterday I popped over to Horse Guards Parade to survey the impressive display of Royal Air Force aircraft from 1918 to the present day that is touring the United Kingdom as part of the RAF's centenary celebrations. Awesome as it was to witness the staggering development of military aviation from the wooden BE2c Biplane of 1918 to the F35 Lightning, the newest of the RAF's jets; it was the spirit of the RAF Family, past and present who inspired me on that spot in Whitehall.
The RAF's airmen and airwomen share a special DNA that connects their trillions of cells, crossing time and space and defying gravity to achieve one goal, excellence in the skies. Their ability to manoeuvre the most advanced technology in the air is impressive, however, their determination to achieve the impossible coupled with resilience in adversity is staggering! This innate desire to serve, work hard and help others to succeed even when challenges look insurmountable is that special 'it' factor.
Two young officers, I met, standing alongside the BE2c Biplane in the khaki attire of the first RAF Fighter Aces, carry that special DNA of their ancestors. Their training to achieve their Wings' is considerably longer than the early pioneers they follow, but their passion is identical.
The RAF's female aviators and airwomen have been trailblazers since 1918, and early pioneers would be proud to see what leaders like Wing Commander Nikki Thomas are doing today.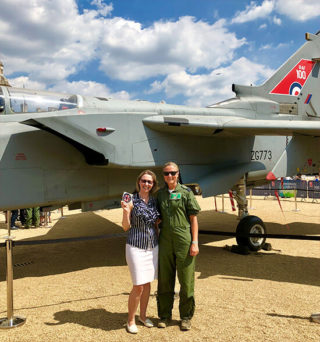 Nikki is a navigator and the first woman to command an RAF Fast Jet Squadron and is participating in the RAF100 commemorations. When I asked her if she will be participating in the flypast over London and Buckingham Palace this afternoon (this will be the largest assembly of aircraft in modern times), she answered 'sadly not'. Instead, she will be doing something even more nerve-racking, reciting a poem at Westminster Abbey, in the presence of her majesty the Queen. In typically humble RAF fashion, the courageous flyer told me she was honoured to be doing the reading but was understandably a little nervous.
If you get the chance to see the service and fly past, think of all those wonderful men and women in their flying machines, and what they do to realize their dreams. Happy 100th Anniversary Royal Air Force.