Today Translations' Head of Global Sales, Rita Metlovaite, delves into the potential of a Dynamic Working environment, attending the recent "How do you work your life? #BalanceforBetter" event hosted by Barclays.
---
Organised to coincide with International Women's Day on the 8th of March, Barclays' Dynamic Working event, which took place on the 5th of March, was a fascinating panel debate centred around the IWD 2019 campaign theme – #BalanceforBetter.
The event was hosted at the beautiful Cholmondeley Room and Terrace within the House of Lords, which offers stunning views over the River Thames, and was attended by business leaders and managers, HR teams, and others with an interest in the initiative's potential to change workplaces for the better.
Dynamic Working is an initiative developed by Barclays to address the gender bias generally associated with "flexible" working. Unlike flexible working, which is usually seen as a benefit specifically for working mothers, dynamic working focuses on diversity and inclusion, and aims to promote a better work/life balance for every person within the company and beyond. Since its introduction, Barclays has seen an increase in productivity, improvement of morale, and higher staff retention.
Rachel Williams, Head of Inclusion and Diversity at Westminster chaired a panel debate during which panellists shared their workplace experiences and Barclays discussed how and why they developed the initiative.
In line with International Women's Day, the event also celebrated the social, economic, cultural and political achievements of women, and marked a call to action for accelerating gender parity.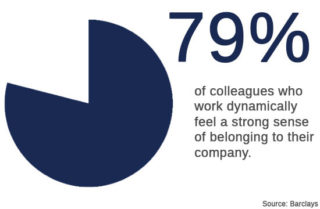 At a personal level, it was fascinating to hear people's stories of how working models like this have improved individuals' lives as well as general company culture. I sat at a table with a number of the House of Lords HR teams and heard first-hand how proud they were of what they had achieved since starting their Inclusion and Diversity programme back in 2016. They have ranked in the UK Top 50 Inclusive Employers for the last 2 years, which just goes to show how quickly these models can have a tangible impact.
Overall, I came away from the day with a new perspective on an existing conversation, particularly in relation to how we at Today Translations could adopt elements of such models to complement the policies we are already working on in this area. With our people at the heart of everything we do, it is paramount that they feel included and heard and that we do all we can to support and nurture our working community. As we look to the future, it is reassuring to know that we are in good company, and that Today Translations is moving in the right direction as a business to continuously improve our environment and keep our team feeling happy, motivated, and valued.