The era of globalisation and open markets has had a resounding effect on how companies do business and form partnerships across borders and different languages.
However, it has also provoked the internationalisation of crime and corruption. This is obscuring policing methods and escalating the risks associated with language.
So, how can we harness language services and skilled linguists to combat corruption, money laundering and data theft? How can firms effectively introduce a 'Language Defence'.
That was the topic of discussion at the British Chamber of Commerce in Lithuania's (BCCL) latest Breakfast Technical Briefing in Vilnius on April 27th, where Today Translations' Special Advisor for translation security, David Clarke, addressed a room of delegates and special guests.
READ MORE: How language services are used to combat corruption, money laundering and data theft
During the talk, David discussed where the current and future dangers lie for businesses dealing in foreign languages. One particularly notable area is foreign supplier and customer due diligence.
Making sure that your organisation introduces the necessary checks and balances no longer constitutes good practice. It is necessary practice. Regulatory bodies in the United States — and increasingly in many part of Europe, including the UK — are becoming increasingly more robust, holding businesses to closer scrutiny over who they deal with.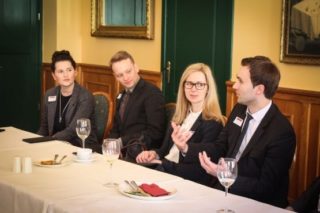 Ignorance is no longer bliss. We are finally moving on from days where regulatory bodies would shy away from imposing significant penalties on financial institutions and law firms that inadvertently facilitated money laundering and other criminal practises.
David presented three cases studies where organisations had fallen prey to criminals. He explained how language was used to perpetrate the attacks and outlined the role that linguists and investigators played in detecting and protecting businesses.
Linguists and translators play a key role in helping companies recognise the risks they face from foreign markets. They hold the language, sector and cultural expertise that organisations, and particularly the regulated professions, require when vetting prospective partners, reviewing contracts and verifying facts.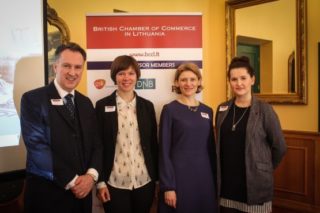 Effective and responsible cross-border business has always required exceptional linguistic talents that underpin multilingual communication. But while they facilitate the good, we also want them to impede the corrupt and protect business from the criminal. They are our first line in the 'Language Defence'.
We would like to thank our friends at the BCCL for hosting our talk in Vilnius this week. You can view pictures from the event on their Facebook page.
Photos courtesy of Jurga Prakapaite