Expect to see Asia continue to tighten its grip on the mobile application market in 2014.
Second (and third) to only the United States, Japan and South Korea saw the highest spend in Google and Apple's app stores. The only other Asian country to feature in the top 10 for mobile app markets in 2013 was China.
That may well be set to change, however, with South-East Asian countries going through a period of "staggering" growth in terms of app downloads, according to David Ng, chief executive of Singapore-based gaming company Gumi Asia Pte Ltd. Suitably, mobile games are the core factor for this growth.
Distimo, developers of an app analytics platform, cited in a report earlier this year that Western developers are successfully tapping into the emerging Asian market, thanks to successfully implemented localisation strategies. However, reports suggest that tapping into the growing markets of South-East Asia will not be quite so straight forward.
What's right and what's wrong?
Localising mobile games to local tastes can be hard-coming. In South-East Asia, diverse demographics in neighbouring regions are challenging developers to find the right balance.
For example, as Ng points out that, gamers in Thailand and Vietnam prefer to play as characters clad in Chinese-style outfits, while gamers in the Philippines respond more to characters with a Western appearance.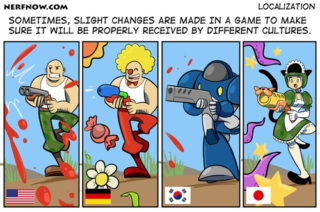 Indonesia: Stuck in the middle
In the middle of this localisation crossroads is Indonesia, a market heavily driven by mobile access. (The penetration rate of mobile devices in Indonesia is a staggering 114% per cent).
The market, however, has proven trickier to break into for Western companies as local brands in all industries still dominate. And in terms of localisation, comprehending the intricacies of the market has proven a further challenge.
Ng told Reuters: "Indonesia is hard. You have Muslims, Chinese and Christians. It's a mix. It's really difficult to comprehend a market as diverse as that."One European brand that has seen success is Rovio, the name behind Angry Birds, who launched a special Indonesian edition of the game on Facebook. However, localising birds and two-dimensional backdrops is one thing, localising human characters, story lines, items and equipment is quite another. Western mobile application developers are gaining significant traction in the Asian market but are still relying heavily on focus groups
For now, there remains no single formula on how to successfully adapt for these audiences, the key to success is clear: Provide the user with something they will be immediately familiar with.
A company looking to reach new markets can begin by conducting the relevant market research, assess local tastes (even among the various demographics) and understand the emotive message they're giving off.
And finally, no brand should be afraid of reinventing itself from the ground up to cater to a new target audiences. After all, that's what many mobile game developers are forced to do all the time.