This article was originally posted to the ADAPT project website, written by Executive Producer and Today Translations Advisory Board member Amanda Murphy.
The talents of early day pioneers are not always recognised or celebrated, and this is arguably the case of the early TV engineers and crew responsible for bringing the first colour programmes to our TV screens back in the late 60s.
A young David Attenborough as Controller of BBC2 in the mid-60s was determined to beat the Germans in the race to fully launch colour television, so he ambitiously promised a colour service starting with Wimbledon on 1st July 1967.
It was a great success and history was made even though there were, in fact, only 4 colour cameras in operation at the time! Given that most homes still only had black and white television sets, these cameras had to be able to broadcast in black and white as well as in colour. This all presented a considerable technical challenge for the engineers and cameramen of the day!
ADAPT sets out to better understand television technology and the processes by which it was made in the past. So, in 2016-17 we reunited some of the original cameramen from that historic Wimbledon event, along with other ex-BBC crew from those early heroic years, with much of the original kit, including two of the first- generation colour cameras and a semi-restored ex-BBC outside broadcast truck known as North 3, all from the late 1960s.
The veteran crew, made up of 18 men (and one woman) rather miraculously recreated a live outside sports broadcast to show us how it was done in those early pioneering days. Their efforts were filmed and are currently being edited. All of this footage will all be made available online (for free), with highlights being released on the BBC History website for the first time to coincide with the BBC's 50th anniversary of a regular colour service.
It was an ambitious mission to say the least, gathering a full line up of mostly retired outside broadcast crew with the expectation that some, if not all, might actually remember the kit they habitually used 30-40 years ago, and more importantly, would ideally make it all work again!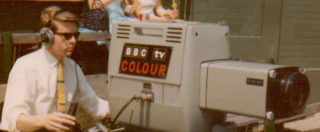 It transpired that the real challenge was locating predominantly obsolete kit from dusty lockups, cubby holes and the fierce clutches of collectors, with the faint hope that it might just be made operational. We knew this venture was ambitious at best – and many ex-crew initially thought we were insane! Our first real glimmer of hope appeared with Steve Harris, collector and owner of the lovingly restored ex-BBC outside Broadcast truck North 3 unit. Luckily, he was up for the challenge!
What followed was several months of hard toil as Steve and his team with their trusty soldering irons working tirelessly around the clock, along with a fair few roped in ex-BBC engineers who traversed the country to help out. Each of them was committed to rejuvenating ancient machinery- like an old one-inch Videotape recorder, and two first generation colour cameras: an EMI 2001 and a Pye PC80, along with all the associated cabling, connectors, sound kit and monitors.
One engineering crisis followed as brief signs of life in one piece of kit would quickly be followed by another part dying. By the end, the team deserved medals for sheer determination and patience.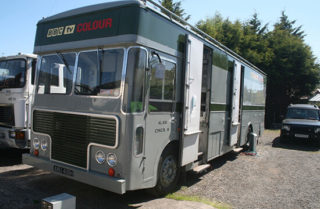 When North 3 finally pulled into the filming location in Wales, it was to an uproar of cheers from the veterans who only half believed it would actually make it! To our surprise, the crew then revealed they each still had a master key in their possession that allowed them to enter any BBC outside broadcast truck – including North 3! Seeing the joy on their faces when they actually stepped back inside was priceless!
As they re-familiarised themselves with the craft of their past, we filmed and witnessed these incredible pioneers quickly fall back into role. They seemed to dig deep and use every engineering trick in the book replacing boards on the old cameras, supplemented connectors, rigging up a temporary talkback and all the while fixing faults on old hefty G101 cables. Toughest of all, they were faced with driving two different types of first generation colour tube cameras, both around 50 years old.
One favoured the London EMI 2001, and the other, the northern workhorse Pye PC80. It took every ounce of ingenuity to get these behemoths up and running, and perhaps the greatest challenge of all came during the complex task of lining them up. For the vision engineers and cameramen, this process brought back painful memories of the many difficult hours spent during those first years of colour.
With new red, green and blue tubes added to cameras, the cameramen and vision engineers needed to work in tight teams to perfectly align the tubes to achieve pictures with the right colour balance. The process took up to two hours per camera, and with at least four cameras at most outside broadcast events, this was a time-consuming job! 38 years since he had seen the EMI 2001, cameraman Robin Sutherland took a while to find the correct dials, but with the help of vision supervisor John Coupe, finally got there.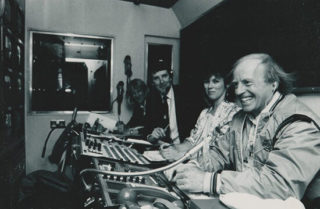 Meanwhile, the veteran sound crew were making half-century old microphones work so as to record a commentator and two darts players, plus the all-important sound of a dart hitting a board.
They were also lining up title music to play in live, while director Geoff Wilson focused on familiarizing himself with a bank of monitors and mixers so he could not only direct cameras but live mix the match too! With all 18 veterans working as a tight-knit team, driven by their professionalism and sheer determination to pull off the mission, it made for a mesmerising watch. And proof indeed that proper training in television pays!
After just 24 hours together, it was as if the years rolled back to the late 60s. Director Geoff Wilson's 'Stand-by', 'Roll VT' and 'Action' created excitement and nostalgia in equal measure.
Geoff successfully led his crew to record an astonishing 20-minute period-feel darts match complete with Letraset captions for the opening and end titles and credits. Both of the 50-year old cameras behaved and delivered pictures, though given that they have not worked since, it all felt rather miraculous!
As this is a celebration of our pioneering crew and their incredible achievement, I'll say less about our own technical challenges behind the scenes except to share a couple of points. Given the small spaces of the OB truck and with so many areas and veteran crew to cover, I decided to shoot the event as a fixed rig 14-camera shoot.
In order to fully capture the approach, decisions and processes involved, we chose to record all crew activity from the moment of reunion with old kit, through rigging, rehearsing, and on to recording and finally reflections on it all. For Adapt, this inevitably resulted in an enormous amount of filmed footage, in fact, 11 Terabytes worth (over 300 hours!) which we are still grappling with in the edit. Ironically, after just a couple of days back at the job following a 30 to 40-year hiatus, our veteran crew manage to achieve a 20-minute recording of a ready to broadcast live mixed show complete with titles and music!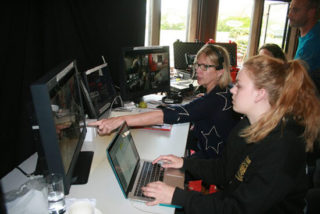 Perhaps we should have also turned over the task of our recording to the veteran crew, as no doubt they would have delivered the very same piece within a few days! Here's to fabulous BBC training and to learn from such talented trailblazers!
All images are © copyright of ADAPT.