"Essentially, all life depends upon the soil… There can be no life without soil and no soil without life; they have evolved together."
These wise words, spoken by USDA soil scientist Dr Charles E Kellogg in 1938, certainly resonated with me during my trip to Oman last month, when I had the pleasure of visiting on trade mission organised by John Warner, the Master of my Livery; the Worshipful Company of Fruiterers. We spent a week seeing at first hand the engineering and botanical marvels that are unfolding in this shimmering Jewel of the Middle East.
I discovered a welcoming, prosperous country with a booming economy, a government investing heavily in infrastructure projects and the land, and horticulture that sustains life. It was exciting to see many great British names engaged in ambitious development projects; Oman is clearly open for trade, and opportunities abound. Located at the centre of the Asian, African and European markets, Oman's progressive international relations also promise future collaboration and trade with the United Kingdom.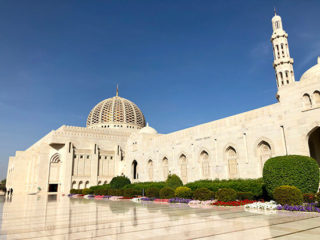 Since my first visit when I was 17 years old, trade with the Middle East has been a subject close to my heart. Soon after the fall of the USSR, I travelled to Dubai to trade, buying beautifully crafted, locally made cloth and exporting it for sale in Lithuania. Since then I have had a certain fascination with the region, how its people welcome traders, and the abundance of business opportunities on offer there. Like Dubai, Oman has such a strong national identity and rich culture. It has much to offer; from the most delicious seafood to locally grown dates, tourism to horticulture, creative industries to theatre. Many of these attributes are unique to this picturesque coastal state yet unknown to seasoned travellers. It is best known for its oil and gas production, which provides 75 percent of the country's export earnings, with China being the top importer. Oman is China's biggest trading partner in oil and gas, yet the country remains outside OPEC.
The business possibilities in the oil and gas and infrastructure sectors are obvious, and already utilised; it is the other import, export and cultural opportunities that seem to be overlooked. Oman is currently conducting vital research into seeds, irrigation, and the rescue of thousands of trees and plants that are at risk as a result of development; some of which are native to the country, such as frankincense. We Fruiterers were particularly interested in the planned botanical gardens, which will showcase the remarkably varied habitats and flora of Oman and carry out vital work to protect their seeds.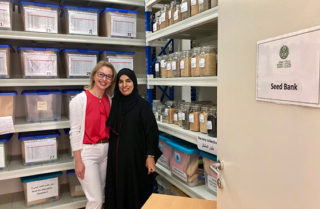 The Royal Opera House Muscat is Oman's iconic venue for musical arts and culture. From the gleaming white marble exterior to the intricate Islamic geometric designs adorning the interior woodwork and ceilings, it really is the most beautiful performing arts building I have ever visited in the Middle East. It certainly ranks up there with the noblest opera houses in the world. The Opera House reaches out to the local community and cultural organisations through a number of educational programs and activities designed to engage with the general public and promote the importance of arts, music and culture in our lives. Just as the seeds at the botanical garden breathe life into the flora and fauna of Oman, this arts institution nourishes the roots that unite cultures and the Sultan of Oman is to be congratulated for this.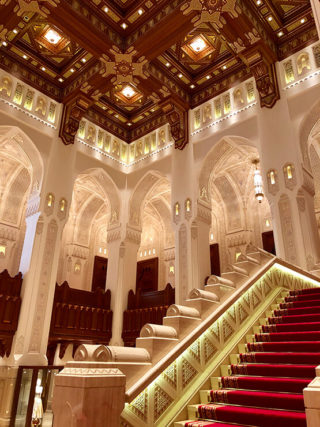 The Grand Mosque, meanwhile, is home to one of the largest chandeliers in the world, and brings together architectural elements from the Islamic, Middle Eastern and Omani traditions. The stunning carpet covering the floor of the prayer hall weighs an impressive 21 tonnes and was woven by hand over the course of four painstaking years. The Grand Mosque is one of the few mosques in Oman that welcome non-Muslim visitors, a fact for which I found myself very grateful when standing in the midst of its quiet, mosaicked splendour.
Those looking to build business links in Oman will be taken by the warmth of the people. The United Kingdom's long relationship with the country remains strong, and during our visit, our Master of the Fruiterers had the honour to plant a tree that was provided by the botanical garden at the British Ambassador's residence to symbolise the good will that exists between our countries.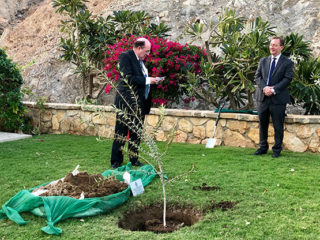 Visitors for both business and pleasure will be comforted by the knowledge that English is widely spoken across Oman, minimising the barrier that language can present in some countries. Understanding and respecting the rich Omani culture is of course a tremendous way to build trust and is repaid through the respect one receives in return. For those looking to expand their business operations in Oman or simply considering a holiday in this unspoilt oasis, I have compiled the following questions and answers to help you make the most of your visit:
What business languages are spoken in Oman?
English is generally used for written communication between businesses. However, the official language of the country is Arabic, so all communication with Government is required to be in the native tongue. Be sure you have a competent and secure translation partner to translate any official documentation or filings such as company registration, tax, etc.
What cultural aspects should I consider when doing business in Oman
The religion of over 85% of Oman's population is Islam, and, as such, Friday and Saturday are weekend days. Above all, ensure that you are respectful and observant of Islamic culture and traditions at all times.
The dress code for a business meeting is always smart and conservative (especially for women). Handshakes are the accepted greeting between men and it's usual to shake the hand of the most senior person first. Use Arabic titles where possible and appropriate (such as Haji and Sheikh), as this shows respect.
What is the etiquette for business meetings in Oman?
Exchange of business cards is common when meeting potential new associates for the first time. Ensure your cards are double sided (English & Arabic), and present the card with both hands. Make sure you take the time to read any cards you've been given prior to putting them away.
Is it customary to visit a person's home in Oman?
Invitations to visit an Omani home are common. It's polite to take a small gift if you are invited for a formal meal. Visitors should remove shoes at the door and it's advisable to accept whatever form of food or drink is offered, as refusal can cause offence.
---
If you are planning to do business in Oman or elsewhere overseas, for legal advice, we would refer you to our client Thomson Reuters.
For more information about the work of the Worshipful Company of Fruiterers and the visit to Oman, click here.