Last week, our CEO, Jurga Zilinskiene, spoke at two of the biggest international business and leadership fairs to ever take place in Eastern Europe – Forum One in Kaunas and the World Lithuanian Economic Forum (PLEF) in the Lithuanian capital, Vilnius.
Today Translations has had a ground-breaking week, as our CEO, Jurga Zilinskiene, debated, networked and rubbed shoulders with some of the brightest business minds, both from Lithuania and far beyond, including British business magnate Sir Richard Branson.
An entrepreneurs' event often sees the majority of panelists looking to stand out from the pack and promulgate their companies. Jurga, however, put her name and the company on the map during the second panel discussion in Vilnius, entitled 'Entrepreneurship, Technology and Progress,' causing quite a stir when she shifted the focus with a thought-provoking comment on human capital and the limitations of technology.
"I believe with all the progress with technology yes, we're making fascinating discoveries, changing societies, and changing our attitudes but I think one thing we really shouldn't forget: we're not robots.
"I think when we talk about technologies they could be counter-productive. Sometimes we put the emphasis on the wrong places. Social media is important because yes, it allows us to connect, but how much noise are we creating? How much data are we creating? How are we going to find those key messages? It's a really really big task to be able to actually manage your social network to grow your business.
"So I think we sort of have to start thinking about technology not as something that is going to replace human beings, yes you're right, it has to assist us, it does, but at the same time you have to really look at how counter-productive it is because I think to a certain extent we have to think how we're going to deal with that noise, how we're going to help to find the information that is really important."
Jurga shared the stage with a crop of fellow entrepreneurs, a handful of whom were, like her, of Lithuanian background but based elsewhere in the world. Among them were Viktoras Jucikas, founder of the hugely popular mobile application for London nightlife, YPlan, and Francisco Ricardo Blagevitch, founder of the Brazil-based IT company, Asyst International + Rhealeza.
"The two events were spectacular," said Jurga. "With so many great discussions and some really moving speakers, I hope that those in attendance were inspired to help develop Lithuanian into a real hub for business creativity and entrepreneurship."
Unsurprisingly, the spotlights at Forum One shun most brightly on Sir Richard Branson, who was in town to talk about his selection of business secrets.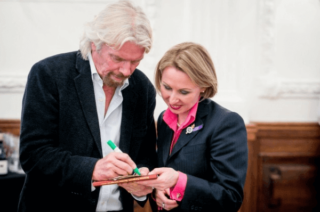 On meeting and having dinner with the renowned British tycoon, Zilinskiene said: "Branson was exactly the kind of person I expected him to be: outspoken, funny and very embracing of Lithuania. I don't know when our paths might cross again, so I made sure to seize on some photo opportunities."
So, after two days straight business talking, what lessons did Jurga pick up from the two events?
"First and foremost, it's that now is a great time to begin doing business in Lithuania," Jurga said.
"For a country with such a small population (currently at a little bit over 3 million people), Lithuania has has incredible potential to succeed. I can see that people here, particularly young people, are hungry to succeed and inspired to start their own businesses.
"A few years ago, the country was experiencing an exodus of some its brightest talent, as they sought opportunities elsewhere, in markets where it was easier to start businesses. I'm no exception," she added.
"But because the business environment and culture is changing dramatically, many of those who left are returning, bring back their know-how and talent, helping put Lithuania business on the map."
Today Translations is UK translation company based in the City of London that boasts a pool of almost 3,000 linguists, specialing across a range of sectors. In an industry supposedly under threat by technological advances in machine translation, we firmly believe that only the creative input and hard work from human beings is what sets a professional translation company apart from the numerous other, quick-fix firms.
We are passionate about languages and fascinated by how it connects people and cultures from all over the world. That's why we value the linguistic and artistic merits of our linguists so highly.
Images courtesy of DELFI.