In this age of big data, access to the right information is a commanding force. Use it correctly, and in your hands you hold a supremely powerful instrument.
Yet how often do hear tales of gross negligence and ineptitude in how both public and private bodies treat their data (which often consists of our personal records!)?
The correlation is blatantly obvious: the more data we use, the more data we lose. Attitudes towards data security are improving, but only at a tip-toe pace. Data loss in the UK rose by an estimated 1,000 per cent between 2007 and 2012. Perhaps more astoundingly, information technology service provider EMC reported at the end of 2013 that data loss is costing UK companies more than double the global average.
What does this mean to us? Trust and confidentiality lie at the heart of Today Translations' service. High net-worth clients come to us with their language requirements because they understand how important these two factors are. In addition to our existing protocols, such as our encrypted FTPS server, we can safely claim to be pioneering some of the most stringent approaches to data security within the language industry.
Bringing a former head of the UK's National Fraud Intelligence Bureau onto our Advisory Board was just the first step. We have many exciting procedures being tried in this domain, and we hope to be able to share more about our comprehensive security package with you very soon.
One thing we can share, though, is that for the past few weeks we have been trialing the "Security Guardian" USB memory devices, developed in the UK by ExactTrak and provided to us by our partners in information security, Amba Defence.
ExactTrak coins these memory devices the "Fort Knox" of mobile data security services, and with good reason. The features are remarkable and have gotten us completely rethink how we can deliver sensitive materials to clients around London and the United Kingdom in a highly-secure manner.
Security Guardian has the capacity to:
* Be remotely turned on or off.
* Have any compromised data remotely wiped
* Be encrypted, with assigned access for only certain persons
* Automatically locked when in an unauthorised zone
* Be tracked the world over via its integrated GPS
On that final point, Today Translations CEO Jurga Zilinksiene has brought one of the Security Guardian USB devices with her on her trade mission to Brazil. As per the image below, so far, so good.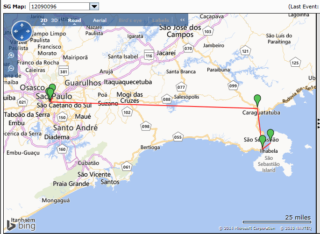 So, whether you are business concerned about how to securely store and deliver sensitive materials, or an individual worried about keeping personal data safe, we simply cannot recommend the Security Guardian enough.
And as the above image of the GPS tracker shows, ExactTrak's USB drive will make a trustworthy and secure companion should you be planning to go to Brazil for the FIFA World Cup this summer.
Today Translations, aside from providing Portuguese translation and interpreting service from and into a range of languages, also offers companies and individuals cultural advice on how to do business, expand a business and begin trading with South America's largest economy. And if you are seeking more information and guidance on how to secure your company or personal data, contact our head of security assurance, David Clarke, at [email protected].