From London to Los Angeles and Dublin to Dunedin, it's a subject that has captured the attention of millions of people on planet earth as it was beamed across the airwaves and cyber space by the BBC, CNN, ABC, CBS, The Times and a multitude of channels. The subject was a job ad for a new member of my team, but the real news was about the birth of a new global language, that transports the user to another place.
The place is a dreamlike destination of psychedelic wonderment where the mystic powers of vibrant yellow faces play with your imagination and radiant red hearts reassuringly strum on your heartstrings in the privacy of your mind. Welcome to Emojiland, the seductive venue that defies social norms with the promise of instant gratification.
This is a mysterious world unlike any other place I have visited, imagined or spoken of in my life and I wanted to share the experience with those who are yet to visit the Zone, so that you might understand what it feels like, the addictive excitement it arouses within Emoji addicts, the productivity benefits of effective emoji mixology and the toxic nature emoji abuse and emoji overdose.
My voyage began harmlessly last month when a client asked our team at Today Translations if we could translate his personal diary into the language of Emoji which he wanted to give as a fun, imaginative gift for his children. As the world experts in human and machine translation, who never like to say no, we had to put our thinking heads on, and that's the very moment the yellow smiley emoji virus gave me that first cheeky wink.
Whilst we cover an impressive list of languages, we had to concede that Emoji wasn't on the list, but after some debate and research we agreed it should be. After all, emoji is the world's fastest growing international language, why one tearful emoji even made it into the Oxford English Dictionary! It conveys both thoughts and feelings in a brilliantly fast manner that saves users time, and best of all it is universal and can cross cultural boundaries too.
To be fair, emoji is relatively new and certainly growing very fast but this visual feast is predated by 5,000 years or so, thanks to the uber-stylish Pharaohs who plastered their temples and tombs with stories of victories, festivities and funeral rituals in colourful hieroglyphic works of art to match the most ecstatic emoji. Deciphering just what the ancient Egyptians had in mind when Horus and Sirius appeared at the family party, was anyone's guess until a French soldier found the ancient Rosetta Stone in Egypt in 1799. Subsequent translation and transliteration of the Stone eventually revealed the secret meaning of the Egyptian symbols and the rest is history.
Learning from our linguist forefathers, it was a natural step to provide the expertise to translate and interpret the new language of Emoji and to provide the world with a go to place to understand cultural norms and make perfect use of it, especially in business. Following our research, we advertised the role through our usual channels. We added some additional skills to the profile and created an online test for applicants, which is pretty tough and designed to identify those with aptitude for the job. The advert attracted over 30 applicants over two weeks.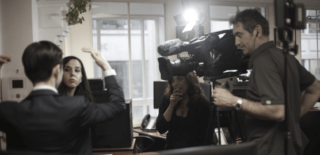 Then, last Sunday, I received a telephone call from a journalist at the BBC World Service enquiring about the advert. I explained the background and he ran a nice story the next day. I went to bed, and that was when the trip to Emojiland commenced. I was excited about graduating from the Goldman Sachs 10,000 Small Businesses programme and was meant to be making final preparations. It was too late, I was in the yellow smiles zone, mesmerised by icons and inundated by calls and emails from across the world asking for interviews about the emoji phenomenon.
The inquisitive BBC TV presenter Alpa Patel came to our office to interview some of our international managers about emoji mixed meanings such as the waving hand and the Saintly come evil halo. Next up, TV channels and chat shows in the USA, New Zealand Radio, The Times and yesterday, I even had a lifelong dream come true when I was invited to speak on my beloved BBC Radio 4.
Between interviews and TV filming at the office, the emoji's very kindly gave me some well-timed breaks to attend Goldman Sachs' Headquarters to graduate from their sensational business support programme that has engrossed and inspired me for the past few months. I was honoured to receive my certificate from the legendary Michael Bloomberg and Goldman CEO Lloyd Blankfein who provided some of the most inspirational, down to earth advice for leaders I've ever heard. Sadly, I didn't have the time nor skill to translate their words into emoji but once we get our new expert on the team I'm adding that to their project list.
It's late afternoon on Friday and I'm due to depart Emojiland soon and head to the staff Christmas party. I somehow feel certain there will be a few of those psychedelic yellow faces working the room and taking to the dance floor later 🙂
Have a lovely, safe weekend and wishing you and yours a very happy Christmas.
Jurga