When we advertised for Glaswegian interpreters back in October 2009, lots of people thought we'd had one wee dram o' the hard stuff tae many. But we were serious and we did make the national press in fact, we were the most popular story for most of the day on the BBC News site and the subject of live interviews on BBC Radio. We even aired live on peak time Scottish TV News.
Today Translations – BBC
Today Translations – Daily Record
Today Translations – Telegraph
Nearly 500 applications later, we're proud to unveil the world's first Glaswegian interpreter. The arch-dialect-decipherer is Jonathan Downie, a 26-year-old language expert who also speaks fluent French.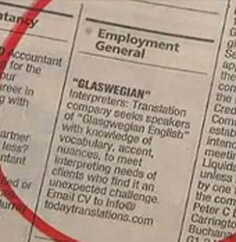 The press recently dragged him out to that frontline of Glaswegian interpreting: the Mecca Bingo Hall a warzone of explosive and undefusable dialect. For Jonathan's flawless translation of Greta Storrie's Valentine's Day dinner story, click the link at the end of this article. So, the scheme was a big success. As we told the national press: "The response to the advert was very surprising and beyond that which we had anticipated."
The appeal for interpreters who can get to grips with the Glaswegian brogue is typical of the unique approach that we take to business and the wider needs of the translation industry. It's a way of thinking that's won us much recognition, with the Duke of Edinburgh Award for Enhancing International Trade and a Shell LiveWire Award.
Behind the awards and headline-making, though, lies an army of 2,600 of the world's best linguists, interpreting and translating in more than 160 languages for over 2000 clients. What sets us apart is a commitment to our clients, a willingness to exhaust ourselves on research, and a genuine understanding of discretion.
And, as they say in Glasgow, that's pure deid brilliant.
Read more about Jonathan Downie's appointment: