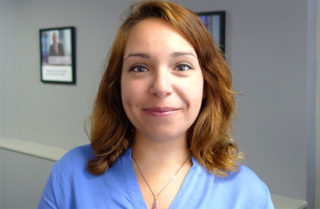 Aïcha Marouane
Quality Assurance Specialist
LinkedIn
I was born and bred in Tunisia but received my education in the French system, which means I've experienced multiple cultures ever since I was a child. Pursuing linguistic studies always seemed like the natural choice to me, and my love for the French language, my mother tongue, led me to become a translator. Working in the language industry has led me to settle down in a few different countries, and now here I am in England, excited to be part of Today Translations!
What part of a project makes you enthusiastic?
Whenever I am assigned a big and complex project, I find it thrilling, especially if I don't know much about the topic. As a translator, you are bound to become more knowledgeable about a wide variety of subjects you wouldn't even think about looking into in other circumstances. To deliver a translation that makes sense, you need to thoroughly understand what the original text was about, which may lead you to research about fisheries in the Arctic one day and how a motherboard works the following one.
Although it's always good to have a specialisation, being a translator can turn you into an expert for each new project. And as long as you are curious enough, every day has its share of things to discover!
What is your best holiday destination?
Depending on my state of mind, I always try to find a mix between farniente and visiting historical heritage sites. Having lived in Tunisia, the South of France, and Malta most of my life, I had never left the Mediterranean Basin for more than a week until last year, when I went to Luxembourg for half a year. My opinion is most probably biased, but I would recommend Tunisia to anyone who hasn't been there, because you can enjoy the beach as well as visit gorgeous places such as the archaeological site of Carthage or the Saint Louis Cathedral.
Otherwise, I also enjoyed travelling around Scotland last December. I, somewhat surprisingly, realised I would rather visit a Northern city in winter, for the atmosphere of mixing comfy multi-layered outfits, mulled wine fragrances, and Christmas markets where you buy stuff you don't need!
Name one thing that would make the world a better place.
Investing in education – everywhere in the world. I am convinced that most of the problems we are facing could be settled, if not easily, at least faster, if we put more value in what really matters, and that is educating future generations. Especially when it comes to environment: we are in a critical situation and not everyone wants to face it. In that sense, developed countries bear significant responsibility to say: "Look, we know we made a mess, and we need your help now to reverse the situation."
Random fact about you:
There is this French and Arabic song entitled "Aïcha", which is quite famous in France and even some other countries. People would sometimes hum it when I introduced myself, and I hated it because I thought it was yet another cheesy love song where a man persistently chases after a woman. However, I recently realised that the woman in the song rejects the man, saying "You can keep all your gifts, I am much better than that, a golden cage is still a cage, what I want is the same rights as you." Since then, I've liked the song a little bit more!