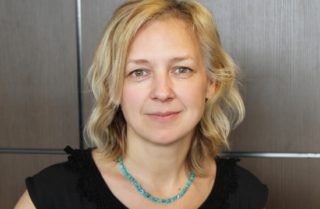 Ilona Metlovas
Project Manager
Ilona is one of the company's longest serving team members, and heads our Interpreting Department. Ilona enjoys keeping a close and friendly relationship with her team members and the interpreters, to whom she even refers to as "her interpreters".
Ilona thrives on challenging circumstances and is adept at managing multiple requirements, all of which are 'last minute'. She is keen to continually strive for improvement and growth for the company.
Ilona has a diverse educational background, including: counselling, arts, complementary medicine and health science, all from various educational institutions in Lithuania and UK. Her adventures built her an invaluable set of skills, such as effective team management, thinking of nonconformist strategies and striving for innovation. She enjoys planning and prioritising her working days, which are always with a "certain dose of adrenaline" – as she says.
When do you feel excited during your work day?
When a client is satisfied with our services and returns with more requests, there's nothing better than a happy client!
What is your motto?
I would say "A day without laughter is a day wasted", though Benny Hill or Mr Bean aren't my cup of tea – I like more sophisticated humour.
Name a volunteering/charity activity you are proud of:
I have been a blood donor since my teens. I used to donate to Oxfam and I am ashamed I stopped doing it lately – I have to re-join them urgently!