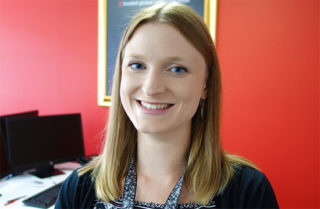 Katie Stagg
Digital Services Product Manager
LinkedIn
I always loved studying foreign languages at school and practicing them on family holidays and couldn't wait to study them further at University. I went to University in the beautiful city of Durham where I completed a BA in Modern Languages and Cultures, and an MA in Translation Studies. Following that, I went on to complete the CIOL IoLet Diploma in Translation, so I'm a bit of a translation geek!
I've now spent 5 years working in the localisation industry, working as a Translation Specialist for Amazon, a freelance translator, and now for Guildhawk. My experience of working for a leading language services provider and one of the world's largest retail companies has given me a unique insight into business and technology in the localisation industry, enabling me to provide bespoke solutions and great customer service. I'm naturally curious and love taking on new challenges so aside from linguistic tasks such as translation, proofreading and editing, I've also been involved in hiring, training, project management, and working with translation technology.
Living and working abroad in France, Spain, and Luxembourg has given me the opportunity to work in multicultural teams and has enabled me to learn how to communicate and do business effectively between different cultures. It's amazing what difference that cultural insight can make!
I love working with people from a variety of backgrounds and learning random snippets of information – every day is a school day!
What makes you get up on a Monday?
We receive a huge variety of texts to translate, which means when I wake up on a Monday morning I never know what the day will hold! I love carrying out research and really gaining an in-depth understanding of the subject matter I'm translating. Over the years, I've become an unsuspecting expert on a wide range of topics from tractor repairs and fire safety systems to e-commerce and the hottest French fashion trends!
What is your best holiday destination?
My best holiday destinations are those where I can practice my language skills and really engage with the people and culture.
One of my favourite holiday destinations so far was a trip to Cuba in 2015. As a Spanish speaker, I was in my element conversing with the locals and finding out first-hand about Cuba's unique history and culture. I was completely won over by the stunning landscapes and rich cultural heritage, and the 1950s cars really made it feel like I'd travelled back in time.
At the moment, I'm really enjoying teaching myself Italian. As a language lover, I try my best to learn a language (or at least a few useful phrases) before visiting a country to really get the most out of the experience. Taking language courses abroad are a fantastic way to learn a language, experience the culture and make some great friends along the way.
Are you involved in any charity activity?
I love getting involved in charity events and over the past few years I've run a 10K to raise money for St. Wilfrid's Centre in Sheffield, participated in CV and employability workshops in collaboration with The Princes Trust, and cooked 190 pancakes for a bake sale! I've also completed voluntary translations for international organisations, such as the UN. It's great to be able to use my skills and know that I'm helping other people.
When do you feel excited during your work day?
I really enjoy finding tailored solutions to provide excellent customer service. My experience in the localisation industry has taught me that there is rarely a "one size fits all" solution and I find it really rewarding finding out clients' exact requirements and providing bespoke solutions so that the final product delivered meets (or, even better, exceeds!) clients' expectations.
I'm extremely motivated by quality and the chance to innovate so I get excited when we receive positive feedback from our clients and enjoy coming up with quality initiatives to ensure consistently high quality standards.