Trusted Expertise
Legally Qualified Linguists
Standard translation processes can be replaced with key content identification and a narrower translation requirement. This process is undertaken by professional linguists with LLB or LLM qualifications.
Safe and Secure
All client data is backed-up in the United Kingdom and systems are certified to conform with the international security and quality standards ISO:27001 and ISO:9001, also providing GDPR assurance.
Quality Driven
99.5% first-time accuracy for translated content is achieved through robust translator recruitment and selection, a rigorous project management process, and translation memory management.
Industry Experience





73% average savings vs. a traditional translation process
1,700 Sector-specific linguists
131 GDPR controls
17 million words translated in the last 3 years
Legal Document Extraction and Translation – AMLiss™
AMLiss™ is a trademarked solution developed by Today Translations originally to address anti-money laundering compliance for legal professionals in public practice or in-house. It has now been extended to provide a content scanning and information classification service for any type of high volume foreign language documentation. This process enables professionals to only focus on the content that matters, and quickly identify risk areas that warrant full translation.

Process workflows can be altered according to client needs, and can include SE3R Reviews, Identification and extraction of Key Information, Verification of Facts, E-discovery processes and full or partial content translation. AMLiss is appropriate for any legally-based high volume documentation including contracts, leases, due diligence material, litigation material and HR documents.

The designers of AMLiss™, Today Translations, are the first translation firm to achieve both ISO 27001 and ISO 9001, the international standards for information security and quality management. Confidentiality, security, and quality are guaranteed.

Content We Extract and Translate
M&A deals
Employment Contracts
Property Contracts
Litigation documentation
Regulatory compliance documentation
Corporate Governance
Customer on-boarding documentation
Recent Projects

Michael Kors
3,500 pages abstracted
100,000 words translated

Cushman & Wakefield
Lease abstraction
30+ projects
2,500+ pages

City of London Police
Read, Review and Extract
Evidential and non-evidential information
Translation of evidence for Court

Leading Pharmaceutical Company
E-discovery and Translation
Restricted information
Bespoke and secure workflow designed
Industry Insight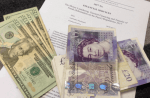 Spotting Fraud in Foreign Language Documents
Regulated professionals need to be especially diligent when reviewing documents from clients that are in foreign languages following the new anti-money-laundering (AML) rules that recently came into force.
Read More
TRANSLATION MEMORY SAVES OUR CLIENTS AN AVERAGE OF 20% – ASK US HOW