The perks of good website translation
The evidence is unequivocal: potential customers are much more likely to buy from websites that address them in their own language. A Common Sense Advisory Survey found that 55% of global consumers said they only buy products from websites that provide them with information in their own language – and that figure is increasing. In today's online marketplace, competition is high and expectations are higher; consumers need to be convinced to part with their money, and that hurdle is raised significantly higher if you neglect the localisation of your content.
It stands to reason that professional website translation and localisation offers one of the most substantial returns on investment for businesses seeking to expand their global reach. This is especially true when the relatively small initial outlay is compared with the gains that can be made. And with internet access and expenditure greatly increasing around the world, English-speaking companies are wise to focus on engaging with new markets, audiences and potential customers on their own terms.
At Today Translations, we have some of the most experienced and qualified translators and developers within our global network. We have years' worth of experience in translating and localising e-commerce websites and software for the likes of French Connection, Evidon & Mitsubishi, and many more.
Translation vs Localisation
So, what exactly is the difference between translation and localisation? Put simply, translation focuses mainly on the conversion of lexical units and strings from the source to the target language, while localisation takes social and aesthetic differences of the target demographic into account. It could be summed up as 'cultural customisation'. These factors are vital to making the language of the website seem natural and native. Examples of these non-linguistic translation tasks that make up the tasks of localisation are the different formats of dates around the world or what currency symbols and conventions are used – for example, the Russian rouble symbol will appear behind the number, but the Pound symbol (£) will appear before. Similarly, it is wise to be attuned to the standards of payment options in your target market – people are careful with their money, and you can avoid putting them off by making sure they can pay in a way that suits them.
Localisation is essentially website translation that incorporates development and design, based on your target audience's cultural tastes and preferences. Specialised developers will then make sure that the strings and variables match the target language.
High-quality localisation
At Today Translations, we offer a highly structured, comprehensive and innovative approach to our website translation and localisation services. The name that we've coined for this process is 4DMR – Discover, Design, Develop, Deploy, Measure and Refine. Aside from undertaking the website translation, we also:
* conduct a cultural brand audit
* run an online keyword search analysis for the target region
* discuss cultural design guidelines, including layout and imagery
* uploading the translation on to a test version of your website
conducting a local, native review
* measure and monitor website performance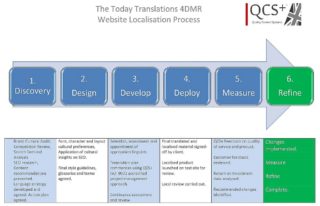 Delivery and services, tailored to your needs
We work to meet your requirements regardless of your preferred means of service or delivery. We strive to accommodate all special requests.
If you prefer to have your translated website uploaded directly onto your content management system, we are happy to do so. If you wish to have our team of developers to work directly within your platform, localising strings and tags within your code, we are happy to do so. Or if you simply prefer having the website translation submitted in a spreadsheet, we will deliver. We don't try to second-guess our clients' priorities; we just make a point of providing flexibility in our service.
Website localisation: the basics
> Website Content: If your website is in French, for example, does the vocabulary need to be specific to the Francophone region that you are targeting? In other words, do you need your website translated and localised for users in France, Belgium, Switzerland, Canada or all the above?
> Graphic elements: Some graphic elements on your website may include language-specific content. Our localisation and website translation professionals will make sure that these undergo the appropriate changes
> Currencies: Do your products need to show local currency conversions?
> Web form feedback: Some of your clients will want to communicate with you in their own language. Likewise, you will need to respond in their language. We can make this happen seamlessly.
> Alert messages: Feedback forms usually have alert messages, telling you if you have provided insufficient or incorrect information. We will identify these alert messages and offer foreign language equivalents.
> Search engine optimisation: A very important area if you want your website to be noticed in foreign language search engines. To take a common example, if you begin online operations in China, Google dancing to Google's tune is not enough for good SEO. The domestic search engine Baidu trumps it, and so you will need to design and write your website with their algorithms in mind. Our experts will suggest foreign language alternatives to the key phrases you are targeting and will also check your page to see that it is correctly configured to identify the language and character set in use.
Give your international websites that native feel. Sensitive cultural customisation requires tactful translators. Work with Today Translations for access to the finest linguistic minds in the business.
Click here to get in touch